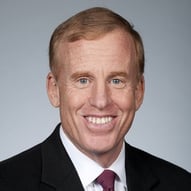 BOSTON, MA (Sept 25, 2019) – Steve Mona has joined the Board of Directors for Club Benchmarking, the industry's leading provider of business intelligence and fact-based insight. Mona is a well-known and highly respected figure in the golf industry. His career includes leadership roles with the Northern California Golf Association, United States Golf Association and Georgia State Golf Association, and he has been recognized by Golf Digest and Golf Inc. magazine as one of the "Most Powerful People in Golf." After serving for 15 years as CEO of the Golf Course Superintendents Association of America, he became CEO of the World Golf Foundation in 2008.
In addition to his contributions as a member of the Club Benchmarking Board of Directors, Mona will take on a leadership role in the company's ongoing strategic governance research which studies practical application of best practices in governance and the relationship between club governance models and financial outcomes.
"Over the last 10 years, we have worked closely with the boards and management of nearly 500 clubs across the country. That experience, coupled with extensive analysis of club industry data, has shown us that clear understanding of the club financial and business model is the foundation of strategic, forward-looking governance. Unfortunately, we see too many boards that are still trapped in a pattern of tactical thinking." said Club Benchmarking CEO Jim Butler, "Steve Mona's industry expertise and intense focus on governance throughout his career make him a fantastic addition to our team and we are pleased that he has accepted a leading role in our effort to help clubs embrace strategic, fact-based leadership."
"I am delighted to join the talented team at Club Benchmarking. I believe the insights and experiences I've gained through my 35 years of working directly with Boards of Directors will bring a unique perspective to the Club Benchmarking research related to strategic governance. In my new role as Director of Governance & Leadership, I look forward to helping club boards gain fresh perspective on their governance models and experience the powerful impact of data and analytics on the decision-making process."
Steve Mona can be reached at smona@clubbenchmarking.com or by phone at 904-755-3834
For more information about Club Benchmarking, visit www.clubbenchmarking.com or call 617-830-2570.
PR Contact: Teri Finan by email to tfinan@clubbenchmarking.com or phone 636-692-5280