Relevant. Powerful. Monthly. Free.
Businesses use dashboards to organize relevant sets of key performance indicators (KPIs), but all dashboards are not created equal. Stakeholder groups need specific information relative to their role in the organization. In private clubs, a dashboard relevant for a department manager should monitor performance related to day-to-day operations and gauge the impact of their operational decisions. A dashboard relevant to the club's board should, by necessity, be very different from that of a department manager. For board members, the focus should be on high-level, strategic KPIs that reflect the club's overall performance, both in its own market and in relation to its own historical trends.
In 2015, Club Benchmarking introduced an Executive Dashboard of annual Key Performance Indicators which are now recognized as standard performance measures in the club industry. Now, in response to the urgent need for appropriate, relevant monthly KPIs for senior management and club boards, we have
developed the industry's first Strategic Monthly Dashboard using an approach similar to what is used in financial markets to depict overall health of the market (Dow Jones Index, S&P Index) and individual sectors (technology, biotech, utilities).
This free service provides four monthly reports (Membership, Cost of Belonging, Operational Finance and Capital Finance) from three trend perspectives (Your Club Current vs History, Your Trends vs Your Peer Group and Your Club vs the Industry).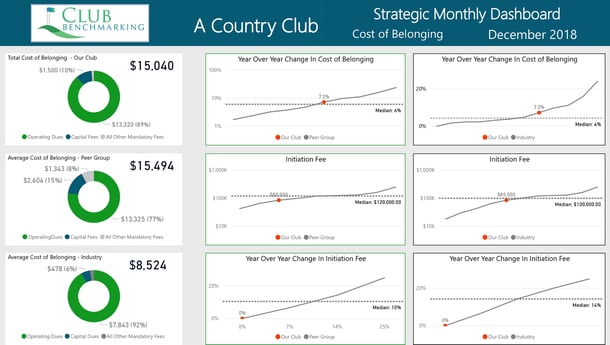 Monthly Membership Report
The monthly Membership Report will help you understand your club's membership trends in relation to your local market and the industry, so senior management and boards can make better, more strategic decisions.
Monthly Cost of Belonging Report
The Club Benchmarking Monthly Cost of Belonging Report allows clubs to clearly understand their own pricing model in a dynamic and ever-changing market.
Monthly Finance Reports: Operating and Capital
The financial metrics on our Strategic Monthly Dashboard provide strategic context to help management and boards focus on the club's true financial driver - the capital ledger - and to measure the strength (or weakness) of the club's capital engine in relation to the local market and industry norms. In combination, the two Monthly Finance Reports deliver unmatched insight for both the Operating and Capital Ledgers.
Our Strict Criteria for KPI Selection
KPIs selected for the Strategic Monthly Dashboard are mission critical to every club regardless of location, club type (i.e. golf, yacht, city) size or quality. The monthly trend of these KPIs is pertinent to every club's monthly meeting process. The KPIs provide significant insight into a club's competitive position over time, within its own local market and within the industry at large. The KPIs help isolate market influences from the impact of the club's own decisions. Is the club's strategy driving a trend or is the trend a result of an overall market trend? (think Alpha vs Beta).
To get started, just send us an email at monthlydashboard@clubbenchmarking.com.
Share This Page