Boston, MA November 30, 2017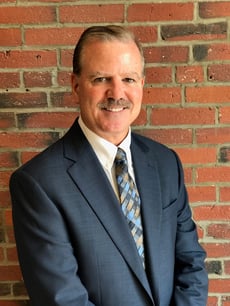 The remarkable journey that led Jim Butler to his new role as Chief Executive Officer of Club Benchmarking, effective November 1st, has been guided by two significant forces; an extraordinary personal commitment to education, and the laser focus required to execute major capital improvements at a world class 54-hole, South Florida facility while simultaneously developing and overseeing comprehensive operational business and strategic plans.
As a proven general manager, Butler brings a unique perspective to his leadership role at the Boston-based company. Building on the groundwork laid by Club Benchmarking Founders Ray Cronin and Russ Conde, Butler's mission is to position the company to develop and deliver a range of new products and services designed to help club managers and clubs meet the future with confidence.
"This is an incredible opportunity to help club decision makers at a time when understanding the value of data has never been more important," says Butler, 56, who for the past 17 years has been the CEO at Grey Oaks Country Club in Naples, Florida. "Club Benchmarking has transformed the club business by bringing powerful financial insight to all types of club facilities. I look forward to leading the Club Benchmarking Team and working together with Ray and Russ to continue to create value for the Industry and our customers."
"Russ and I are thrilled to have Jim join us on our mission of spreading data-driven decision making through the industry," says Club Benchmarking Founder Ray Cronin. "His firsthand operational experience and expertise in our key growth areas of capital planning, compensation and employee engagement, member loyalty and club governance add a new dimension to our organization and we look forward to working shoulder to shoulder with him."
Butler, a Michigan native, is an industry veteran with virtually unheard-of credentials for one individual:
Certified Club Manager
Doctorate in Hospitality
MBA in Real Estate Development and Finance
Turf Grass Degree
PGA and GCSAA member
Certified Club Executive & Community Association Manager
A PGA member since 1989, Butler estimates that he taught the game for upwards of 20,000 hours over a 10-year span. When the opportunity to become a General Manager presented itself, he pursued certification with the Club Managers Association of America. When a superintendent left unexpectedly, he obtained the agronomic certification through night classes. And to better understand the complexities of the real estate market, he earned the MBA. And finally, to better understand research and surveying in the Club business, he obtained a Doctorate in Hospitality focusing on a model predicting membership loyalty through motivation, value, satisfaction, and attachment.
"I have always viewed education as an opportunity to enhance my value to the facility I serve, while at the same time helping my professional career and family," he says.
At Grey Oaks, Butler led the Club through two economic downturns without reducing equity, grew the membership two-fold to create an incoming wait list, helped increase the real estate value to more than $2 billion, and turned the club over successfully to the members without a dues spike or any debt.
Working for the members, Butler helped create a vision that the Club embraced and embarked on a $30 million capital improvement plan inclusive of:
a world-class, 400-seat, casual-dining facility
a 30,000-square-foot fitness center
two golf renovation projects and a third in the planning stage
a new four-bay teaching facility
new short-game practice amenities
new playground layout and equipment
a tennis facility renovation
two clubhouse renovations
Additionally, Butler was on-site when Category 4 hurricane Irma went through Naples, and the clubhouse served as a hurricane shelter for 500 members and staff.
"Grey Oaks is one of the great clubs in the country, and the world," says Butler, who previously served for 16 years at The Forest Country Club in Fort Myers, Florida. "Grey Oaks gave me so many opportunities to grow as a professional and continuously enhance my skill set. Everything in my life has revolved around golf, the club business, and serving others. Grey Oaks has been a huge part of that."
Now, Butler looks to make a difference to the industry by adding his unique insight and giving greater context to the data that is delivered to each club.
"The level of financial expertise that I accrued in running two very successful operations provides me with the ability to develop the additional products and services that will help increase the brand awareness of Club Benchmarking," he says. "We want to continue to lead the industry in benchmarking and financial insight to help facilities meet their unique goals."
Butler says Club Benchmarking envisions opening as many as four regional offices over the next three years, to better serve club officials. He also points out that the governance of a club, through its Board of Directors, is typically a three-year term – or, as he says, one-third the time of the average tenure for a Board member in the corporate world. This governance structure requires the General Manager and the other department heads to provide the continuity to the club, while supplying the Board of Directors with concrete benchmarking standards for the Industry.
"Ultimately it is the Board that makes the decisions that guide the facilities," he says. "We provide context for the data they have, so they have greater insight and can make the right decisions that will guide clubs for years to come. That's what I'm excited to bring to Club Benchmarking."
Jim Butler can be reached at jbutler@clubbenchmarking.com or by phone at 239-253-9244.
CLUB BENCHMARKING provides mission critical business intelligence tools, financial insight and education for club leaders. The Club Benchmarking online platform lets clubs assess their financial health and understand their performance relative to industry norms. Club Benchmarking tools and services include:
Finance & Operations benchmark reporting, Compensation Benchmarking, Workforce Analysis, Financial Forecasting, Employee Engagement Surveys, Strategic Planning and Balanced Scorecard for Clubs, Member Satisfaction & Loyalty Surveys, Pro Forma Development for Clubs