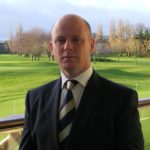 BOSTON, MA (November 2, 2022) – Club Benchmarking, the leader in benchmarking and business intelligence for private clubs in North America and Australia (through its partnership with Golf Business Advisory Services) announced today that Mr. James Burns has joined the company. Burns will focus on the club market in Europe and he will be based in Ireland.
"We are very excited James has joined Club Benchmarking as we scale our products, services and fact-based insight into Europe," said Jim Butler, CEO of Club Benchmarking. "James has deep knowledge of private club operations and finances with his long tenure as General Manager at Milltown Golf Club in Dublin."
While the business and financial model at most clubs in Europe differs from that found in North America, it is like that of clubs in Australia. Private clubs in Europe will benefit greatly from fact-based insight as they have in North America and Australia. Core issues, understanding the key financial drivers, the importance of capital planning, and data-driven measure of member satisfaction, loyalty and attachment cut across geographic borders and continents.
James Burns noted, "I have studied the inner workings of clubs for many years and have participated intensely in industry education in Europe and the USA. I have always been a fan of Club Benchmarking and I am thrilled to work with Jim, Ray, and the team. I believe the Club Benchmarking services and software platforms are directly applicable in Europe and I look forward to introducing Club Benchmarking to my peers."
About Club Benchmarking:
Club Benchmarking is the industry's leading provider of data analytics and business intelligence software and related services for private clubs. Since its founding in 2009, the company has been committed to serving the full spectrum of club industry stakeholders - staff, management, boards, committees, members, and owners. Leadership teams across the country rely on Club Benchmarking and their Financial Insight Model ™ and Key Performance Indicators recognized as the cornerstones of a common industry framework for understanding club finance.
Media Contacts:
Teri Finan - Club Benchmarking
Director of Communications
tfinan@clubbenchmarking.com