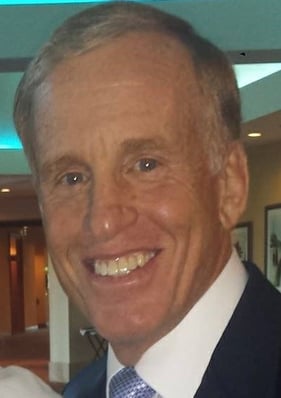 LINCOLN, Neb. (December 2, 2021) – In recognition of his significant contributions and service to the golf industry, the Golf Course Builders Association of America (GCBAA) is pleased to announce Stephen "Steve" F. Mona as its recipient of the prestigious Don A. Rossi Award.
The Don A. Rossi Award is given to individuals who have made significant contributions to the game of golf and its growth and who have inspired others by their example. GCBAA President, Judd Duininck, Duininck Golf, said "The GCBAA membership provides nominations and our Awards Committee, consisting of extremely knowledgeable industry leaders and supporters, brought forth a well-deserving candidate. Steve Mona is the epitome of this award which made it an effortless decision to select and honor such an incredible recipient."
Steve Mona has been an impactful leader in the golf industry for 41 years. Steve first served as tournament director of the Northern California Golf Association from September 1980 to January 1982. He then became assistant manager of press relations for the United States Golf Association (USGA) from January 1982 to June 1993, at which time he became Executive Director of the Georgia State Golf Association. In January 1994, he became the Chief Executive Officer of the Golf Course Superintendents Association (GCSAA). In March 2008, after 14 years at GCSAA, he assumed his position as Chief Executive Officer of the World Golf Foundation (WGF). In March 2019, he became the Executive Director of We Are Golf (formerly Golf 20/20), which is one of the three divisions of the World Golf Foundation, and in January 2020 became Senior Advisor to WGF CEO Greg McLaughlin, a role he holds today. He also serves as the Director of Governance and Leadership at Club Benchmarking, a role he began in July 2019 and in which he continues today.
In his tenure, he has fostered industry relationships, as well as an ongoing global focus. He has promoted, encouraged, and supported the GCBAA and its members. Steve noted his "huge affinity" for GCBAA and is "humbled and honored" to be recognized by the Association.
Justin Apel, GCBAA Executive Director, is quoted as saying, "I am thrilled to see the Association honor Steve with our prestigious award. I have had the pleasure of knowing Steve from early on in my career in the industry, and he has always been a mentor and friend and supporter of our members and the game!"
Steve Mona has held many remarkable and notable appointments and/or elections in and out of the golf industry:
President of the International Association of Golf Administrators (1990)
President of the Georgia Society of Association Executives (1993)
President of the Kansas City Society of Association Executives (2000)
Chairman of the Lawrence, Kansas Business/Education Partnership (1997-1998)
World Golf Hall of Fame Advisory Board (1998-2007)
Golf 20/20 Executive Board (1999-2007)
National Golf Foundation Board of Directors (1999-2009), Secretary/Treasurer (2005-2009)
National Minority Golf Foundation Board of Directors (2000-2001)
Lawrence, Kansas Chamber of Commerce Board of Directors (2002-2004)
The Environmental Institute for Golf Board of Trustees (2003-2008)
American Society of Association Executives Board of Directors (2004-2007)
United Missouri Bank Advisory Board (2004-2007)
LPGA Commissioner's Advisory Council (2006-2007)
The extensive list of his accomplishments under his leadership and ongoing professional career is extremely impressive. In 2008, he was inducted into the Tri-Valley (San Francisco Bay Area) Sports Hall of Fame. He was named the 2008 Distinguished Service Award Recipient by the International Association of Golf Administrators (IAGA). In the Fall 2018 issue of Golf Inc., he was selected to the magazine's "Most Powerful People in Golf" list for the 18th consecutive year. In 1999, Golf Digest listed Steve as one of the golf industry's "Most Powerful People in Golf". Only one person younger than Steve Mona, Tiger Woods at No. 2, was ranked higher at that time. In 1997, the Kansas City Society of Association Executives named him as the "Association Executive of the Year". He was inducted into to the National Black Golf Hall of Fame in 2021 for his accomplishment of establishing a permanent African American exhibit at the World Golf Hall of Fame in St. Augustine, Florida.
A native of New York, Steve received a bachelor's degree in Journalism from San Jose (CA.) State University in 1980. He resides in Ponte Vedra, Florida with his wife, Cyndi. They have three children, Kin, Stephen, and Meredith, and seven grandchildren, Lincoln, Mia, Cooper, Pace, Micaela, Ivori, and Calvin.
The Don A. Rossi Award will be given at the 2022 GCSAA Conference & Trade Show to be held in San Diego, California on February 7, 2022, during the GCBAA Opening Reception at the Marriott Marquis Grand Ballroom. For those interested in attending the award presentation, details will be available this month by visiting www.gcbaa.org, or contact the GCBAA executive office at (402) 476-4444.
About the GCBAA and the GCBAA Foundation
The Golf Course Builders Association of America is a non-profit trade association of the world's foremost golf course builders and leading suppliers to the golf course construction industry. It was founded in the early 1970s, and its members represent all segments of the golf course industry. The GCBAA Foundation is the charitable arm of the GCBAA and a separate, 501(c)(3) organization. The GCBAA's national executive office is located in Lincoln, Nebraska. For more information, visit www.gcbaa.org or call (402) 476-4444.
GCBAA Media Contact: Mychelle Thompson