BOSTON, MA - February 2, 2019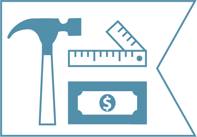 Early last year, Club Benchmarking announced the addition of Capital Reserve Studies (CRS) to the company's suite of data-centric tools and services. The expansion of services was in direct response to a clear need in the club industry. "Through our extensive work with clubs across the country, it had become apparent that only about 10 percent of clubs had commissioned an independent, third party capital reserve study," says Club Benchmarking Founder Ray Cronin. "Capital reserve studies are a critical component of long-term financial planning and we feel very strongly that every club would benefit from an objective, professionally completed, 20-year inventory of capital needs. Adding this important service is a natural extension of our ongoing commitment to financial health and sustainability for private clubs."
Response to the new service has been tremendous, confirming Cronin's belief that increased awareness and availability would make it possible for more clubs to address the need for a capital reserve study. "We are thrilled to be providing this critically important service and delivering the insight clubs need to support strategic long-range planning."
CRS engagements are currently being accepted and clubs considering a Capital Reserve Study in 2019 are encouraged to request a no-obligation proposal as soon as possible to ensure a spot in the 2019 schedule. To learn more about Capital Reserve Studies powered by Club Benchmarking and request a proposal, visit www.clubbenchmarking.com/crs
CAPITAL RESERVE STUDY TEAM:

Brent Hildreth, Director of Capital Reserve Studies: bhildreth@clubbenchmarking.com
Kevin Shea, Capital Reserve Study Specialist: kshea@clubbenchmarking.com
Lew Rosenbloom, Capital Reserve Study Specialist: lrosenbloom@clubbenchmarking.com
Matt Bragg, Capital Reserve Study Specialist: mbragg@clubbenchmarking.com
Paul Mueller, Founder & Senior Analyst: pmueller@clubbenchmarking.com
ABOUT CLUB BENCHMARKING:
Club Benchmarking holds the largest accessible knowledge-base in the club world, utilizing a centralized, confidential data-sharing platform to deliver strategic comparative analysis across the entire spectrum of a club's operation. The Club Benchmarking Key Performance Indicators have become indispensable decision support tools for club boards and management teams across the country.Club Benchmarking Solutions include the Financial & Operational Benchmarking Platform, Capital Reserve Studies, Capital Strategies Modeling, Employee Engagement Surveys, Workforce Analysis & Compensation Benchmarking, Member Attachment & Loyalty Surveys and Board Advisory Services.
SHARE THIS PAGE