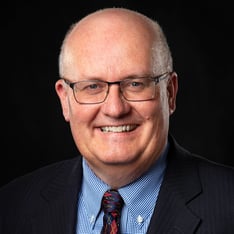 BOSTON, MA (August 2021) – Club Benchmarking announced this week that John Clark has joined the company as an Executive Consultant. Clark is an experienced business strategist who specializes in aligning strategic and operational objectives with financial outcomes.
"John is widely respected for his financial expertise in the club industry, and we are pleased to welcome him as a new member of our team," said Club Benchmarking CEO, Jim Butler. "His talent and extensive experience will add further depth and strength to our ability to support our partner clubs on the path to data-driven leadership."
As a Club Benchmarking Executive Consultant, Clark will be a key contributor to supporting partner clubs through the capital planning process, with significant focus on the company's Capital Strategies Modeling (CSM) services.
"I am excited to be part of such a great team of skilled and passionate club industry professionals," said John Clark. "The innovative software and services Club Benchmarking delivers are setting new standards in helping clubs deliver a compelling member experience while embracing financial best practices. I look forward to contributing to the company's record of achievement for the industry."
Clark's career began at Deloitte & Touche, one of the leading public accounting firms in the United States. His track record of success spans more than 30 years serving and supporting organizations in the hospitality industry including Kemper Sports, First Tee and The Pebble Beach Company. He holds a BS in Business Administration and Accounting from California State University, Fresno and his non-profit board experience includes terms as President of The Land Connection and Treasurer of The First Tee of Greater Chicago.
Notable Skills and Achievements:
Strategic business planning, including raising debt and equity, mergers and acquisitions, reorganizations, and other financial transactions. This includes public filings of debt and equity for over $1 billion and private placements up to $35 million.


Developing and directing corporate-wide finance, accounting and administrative functions as Vice President of Finance including the implementation of rigorous staff review and development processes which allowed for improved operating and financial performance.