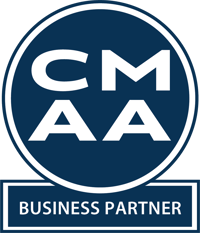 Alexandria, VA—The Club Management Association of America (CMAA) announced today that Club Benchmarking has renewed its multi-year commitment to the CMAA Partnership Network. As a CMAA Business Partner, Club Benchmarking will work with CMAA to better educate club management professionals on business intelligence and the value of data-driven decision making. The two organizations' collaboration dates back to 2011.
As the club industry's leading provider of data analytics and business intelligence software, Club Benchmarking is committed to serving the full spectrum of club industry stakeholders – staff, management, boards, committees, members, and owners.
Through this partnership, Club Benchmarking will power CMAA's annual surveys, including the Club Finance & Operations Report and the Compensation & Benefits Report, as well as the biennial Club Governance Policies & Procedures Report.
Further, CMAA members will have access to select areas of the Club Benchmarking Platform for additional analysis. This valuable tool will allow CMAA members to analyze, compare, and improve their club's performance in relation to CMAA's Universal Key Club Performance Indicators. Club Benchmarking Founder Ray Cronin was a valuable contributor to the Task Force responsible for the development of the Universal Key Club Performance Indicators.
"Given the evolution of the needs of club's business intelligence, we are thrilled to embark on this new avenue for collaboration with Club Benchmarking," shared CMAA's President and CEO Jeff Morgan, FASAE, CAE.
"Our collaboration with CMAA as a Business Partner is a natural extension of CB's passionate commitment to collecting, and analyzing data that can be used to manage and govern the club for better outcomes," said Club Benchmarking Founder Ray Cronin. "Our entire team is looking forward to advancing our work with CMAA and its members to provide business intelligence and support data-driven leadership across the industry."
About CMAA
Founded in 1927, the Club Management Association of America (CMAA) is the largest professional association for managers of membership clubs with more than 7,000 members throughout the US and internationally. Our members contribute to the success of more than 2,500 country, golf, athletic, city, faculty, military, town, and yacht clubs. The objectives of the Association are to promote relationships between club management professionals and other similar professions; to encourage the education and advancement of members; and to provide the resources needed for efficient and successful club operations. Under the covenants of professionalism, education, leadership, and community, CMAA continues to extend its reach as the leader in the club management practice. CMAA is headquartered in Alexandria, VA, with 40 professional chapters and more than 40 student chapters and colonies. Learn more at cmaa.org.