Boston, MA (June 12, 2020)
Club Benchmarking, the leading provider of business intelligence and data-driven insight for private clubs, has released Strategic Monthly Dashboard results for April 2020, the first full month of COVID-19 shutdowns in the private club industry.
Club Benchmarking's Strategic Monthly Dashboard (SMD) is a business intelligence service for the private club industry which systematically measures monthly market trends in Membership, Cost of Belonging, Initiation Fee and Joining, and Finance. More than 300 clubs in 38 states and four Canadian provinces are currently using the service.
Analysis of year-over-year data from April 2020 versus April 2019 has revealed the following:
As expected, in April the greatest impact was on non-dues revenue, a proxy for member activity, which saw a year-over-year decline of 65.4% at the median. The West Region, which includes clubs in California, saw a year-over-year decline of 67% at the median, while the Southeast Region (includes FL, GA, NC, SC) declined 59.3%. The average club saw non-dues revenue drop from $446,308 in April 2019 to $150,280 in April 2020. In aggregate, for all clubs participating in the service, non-dues revenue declined from $112.0 Million to $37.7 Million.



Like many other businesses, private clubs were closed or offered a greatly reduced range of services for members during the month of April. Non-dues revenue from activities such as a la carte dining, golf outings and events disappeared virtually overnight, but many clubs pivoted quickly to engage members with take-out dining which appears to have muted the decline in non-dues revenue. For clubs without golf i.e. yacht clubs and city/athletic clubs, non-dues revenue declined more severely than it did for clubs with golf — 70.5% versus 64.3%.



Year-over-year membership counts held steady across the industry, with no change from April 2019 to April 2020. If the COVID crisis has a long-term impact on the club industry, it will result from member attrition increasing and member recruitment decreasing. Thus far, looking at data from March and April, there is no sign of such a trend.



In April 2020, the median initiation fee for clubs with golf was $35,000 and $12,500 in clubs without golf. Tracking year-over-year changes in initiation fees for April, 72% of clubs had no change, 4% decreased their initiation fee and 24% increased the initiation fee.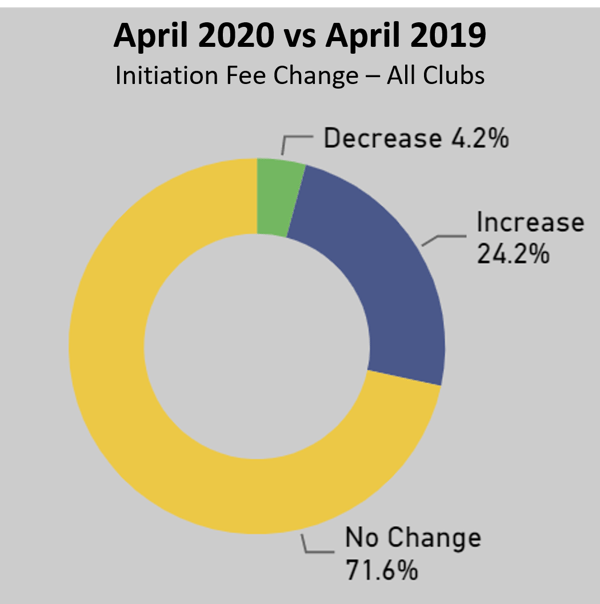 April reporting shows that 25% of clubs had a wait list and 25% had a sell list meaning there are members waiting to receive equity back from the club after leaving. Of clubs with a wait list, the median number of prospective members on the list was 16. The median number of members on the sell list was 17.



In clubs with golf reporting April 2020 data, the total cost of belonging was $11,122 at the median, up 3.6% year over year. In clubs without golf, the median was $4,824 which is an increase of 2.9% year over year.



Dues Revenue, the primary source for funding club operations, increased 3.5% at the median year over year for clubs with golf and 2.5% for clubs without golf.



Among all clubs, debt decreased 5.4% at the median year over year, while capital investment declined 3.0% in April 2020 from the prior year.


Club Benchmarking will continue to monitor and report on how the COVID-19 shutdown and reopening is affecting private clubs. To learn more about the Strategic Monthly Dashboard, visit www.clubbenchmarking.com/monthly
About Club Benchmarking: The concept for Club Benchmarking originated in the boardroom of a private club in response to an urgent need for facts to guide the decision-making process in the wake of the 2008-2009 economic meltdown. The company has developed a full suite of data-centric tools and services specifically for private clubs which serves the full spectrum of club industry stakeholders - club staff, general managers, boards, committees, members, owners and industry constituents including associations.
Media Contact:
Teri Finan - Director of Communications
tfinan@clubbenchmarking.com
636-692-5280